As a lover of all things vintage, I've always been drawn to the timeless appeal of brass fixtures in a kitchen. There's just something about the warm golden hues and intricate designs that harken back to an era gone by, evoking a sense of history and character as no other material can.
While it's true that brass has seen its fair share of ups and downs in terms of popularity over the years, there's no denying that it's currently enjoying quite the resurgence – and for good reason. Not only does brass lend itself beautifully to traditional design aesthetics (think Victorian, Art Deco, or even farmhouse chic), but it also offers an unexpected touch of elegance when juxtaposed against more modern elements.
With countless options available on the market today – from sleek single-handle models to elaborate bridge-style faucets with porcelain accents – choosing just one brass fixture to grace your kitchen can be nothing short of overwhelming.
That said, fear not: I've done some serious sleuthing to bring you this carefully curated list of top contenders for achieving that covetable vintage look. So without further ado, let's dive right into our exploration of these stunning brass kitchen faucets and discover which one is destined to become the pièce de résistance in your culinary sanctuary.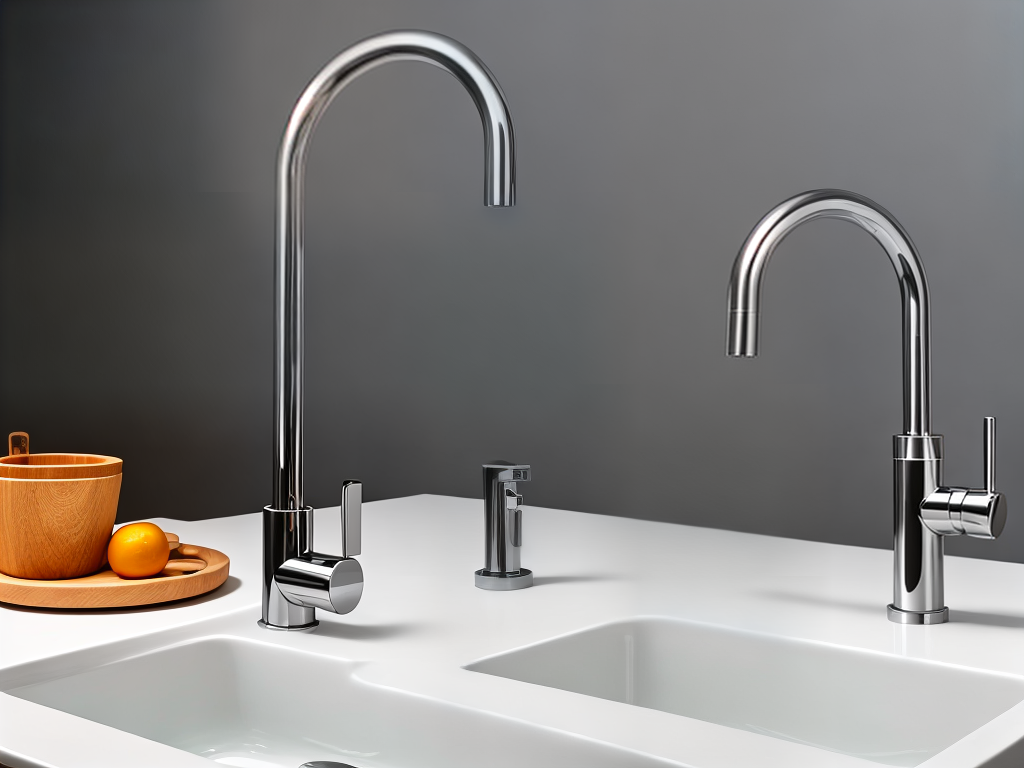 The Appeal of Brass Fixtures
Imagine walking into your dream kitchen and feeling the warm, nostalgic charm that brass fixtures bring to the space – it's like stepping back in time!
A vintage-inspired kitchen isn't complete without these classic accents, as they have a timeless appeal that harmonizes beautifully with various design styles. With their rich gold hue and unique patina, brass fixtures evoke an air of sophistication and elegance that's hard to replicate with other materials.
One of the key brass benefits is its ability to age gracefully while remaining durable over time, making it an excellent choice for homeowners who want both style and substance.
The versatility of brass cannot be overstated; whether you're going for a traditional Victorian look or a modern industrial vibe, there's likely a brass fixture out there that will perfectly complement your chosen aesthetic. This flexibility also extends to different finishes available on the market today – from shiny polished pieces to aged antique options, you can find a fixture that suits your taste.
Moreover, brass effortlessly pairs well with various colour palettes and textures such as marble countertops or wooden cabinetry.
As we delve deeper into the world of vintage-inspired kitchens, we must discuss fixture versatility in terms of design elements as well. Brass faucets come in many shapes and sizes – from bridge-style faucets reminiscent of old-world charm to wall-mounted pot fillers perfect for serious home chefs. There are even options featuring intricate detailing and ornate designs for those looking to make a bold statement in their space.
The possibilities are seemingly endless when it comes to choosing the perfect brass faucet for your kitchen.
So why not embrace this stunning material when designing your dream vintage-inspired kitchen? By incorporating beautiful brass fixtures into your space – whether through faucets, cabinet hardware or lighting – you'll be investing in pieces that stand the test of time while adding warmth and character throughout.
With its blend of durability and striking aesthetics, it's no wonder why so many homeowners continue turning towards this enduring material for their kitchen design needs.
Timeless Design Elements
You'll simply adore how these timeless design elements effortlessly infuse your space with a sense of nostalgia and charm. Vintage aesthetics and classic charm are both essential components in creating the perfect balance between old-world elegance and modern-day functionality.
When it comes to choosing the top brass kitchen faucets for a vintage look, you must consider not only their visual appeal but also their ability to blend seamlessly with other design elements in your kitchen. To create an authentic vintage feel in your kitchen, it's important to choose fixtures that embody the style and period you're aiming for.
For example, if you're looking to evoke a Victorian-era vibe, opt for brass faucets with ornate detailing and intricate scrollwork; whereas if your preference is more towards an Art Deco-inspired look, then sleek lines and geometric shapes will be the key features of your chosen faucet. Additionally, pay close attention to finishes – aged or patinaed brass can add an extra layer of authenticity to your vintage-inspired kitchen.
Another crucial aspect is ensuring that the selected brass faucets are not just about form but also function. The beauty of incorporating vintage aesthetics into modern kitchens lies in marrying classic charm with contemporary technology; so while you want your faucet to boast traditional motifs, it should also be equipped with state-of-the-art features such as ceramic disc valves for smooth operation or swivel spouts for added convenience.
This harmonious blend of style and practicality ensures that your faucet doesn't merely serve as a decorative piece but genuinely contributes to enhancing the overall functionality of your kitchen. As you explore various options for top brass kitchen faucets that exude a vintage look, don't forget about small details that can elevate the entire ensemble.
Consider coordinating cabinet hardware like knobs or pulls made from brass or even pairing your faucet with complementary accessories like soap dispensers or towel bars. By paying attention to these subtleties, you'll not only achieve a cohesive aesthetic in your space but also accentuate the timeless elegance that brass fixtures bring to the table.
So, go ahead and embrace the allure of yesteryear by incorporating these classic design elements into your kitchen – you'll soon find yourself revelling in a space that's both charmingly nostalgic and refreshingly modern.
Kingston Brass Victorian Bridge Faucet
Experience the elegance of days gone by with the Kingston Brass Victorian Bridge Faucet, a perfect blend of timeless design and modern functionality for your kitchen.
This stunning faucet is heavily influenced by Victorian-era aesthetics, featuring intricate detailing and refined curves that evoke a sense of sophistication and luxury. The bridge functionality adds to its charm, connecting the hot and cold water valves with an elegant arch that not only serves as a focal point but also ensures ease of use.
As I delve deeper into the features of this faucet, it's hard not to admire its attention to detail. From the porcelain lever handles adorned with 'Hot' and 'Cold' labels reminiscent of antique faucets to the eye-catching swivel spout which provides both flexibility and convenience when using it in my kitchen – every aspect has been thoughtfully crafted.
Furthermore, being made from solid brass construction means it offers durability that's hard to find in other faucets while still maintaining its vintage appeal.
One might assume that such an ornate faucet would be lacking in practicality or efficiency; however, this couldn't be further from the truth.
The Kingston Brass Victorian Bridge Faucet boasts a ceramic disc cartridge system that ensures smooth operation without any drips or leaks – providing me with confidence in knowing that my investment won't go down the drain (pun intended).
Additionally, its flow rate stands at 1.8 gallons per minute (GPM), which is within industry standards for water-saving fixtures.
The beauty of choosing a faucet like this lies not only in its exquisite design but also in how seamlessly it integrates into various kitchen styles.
Whether you're looking to create an authentic period setting or simply want to add a touch of classic elegance to your contemporary space, there's no denying that the Kingston Brass Victorian Bridge Faucet will make an exceptional addition – one that elevates your kitchen experience while preserving our rich cultural heritage through inspired design elements.
Moen Waterhill Two-Handle Faucet
As you explore the Moen Waterhill Two-Handle Faucet, you'll find that it effortlessly combines timeless elegance with modern functionality, making it an exquisite addition to any home.
With its high-arc spout and sweeping curves, this faucet exudes vintage appeal while providing ample workspace for washing dishes or filling pots. The two-handle design allows precise control over water temperature and flow, ensuring a comfortable and efficient experience at the sink.
One of the standout features of the Moen Waterhill is its solid brass construction, which ensures durability and long-lasting performance. This quality material not only adds weight and sturdiness to the faucet but also contributes to its luxurious feel.
Additionally, the available finishes – such as oil-rubbed bronze, chrome, or brushed nickel – offer versatility in matching your kitchen decor while maintaining their classic charm.
When it comes to installation tips for the Moen Waterhill Two-Handle Faucet, many users appreciate its Duralock Quick Connect system. This innovative feature facilitates easy installation by securely connecting water lines without requiring tools or extensive plumbing knowledge.
Moreover, the side sprayer included with this faucet model offers added convenience for rinsing dishes or cleaning up around your sink area.
The Moen Waterhill Two-Handle Faucet truly stands out among other vintage-inspired kitchen faucets due to its combination of beautiful design elements and practical features. Its durable construction materials guarantee longevity while offering flexibility in fitting various kitchen styles through different finish options.
And thanks to user-friendly installation methods like the Duralock Quick Connect system along with a handy side sprayer accessory provided in this package deal; upgrading your kitchen space has never been easier or more enjoyable than it is now with this stunning piece by Moen at hand!
Delta Cassidy Single-Handle Faucet
If you're searching for a blend of classic elegance and modern convenience, the Delta Cassidy Single-Handle Faucet is an excellent choice to enhance your kitchen space. This timeless faucet combines the best of both worlds – Cassidy aesthetics with superior functionality.
The high-arc spout and intricate detailing provide a touch of vintage charm, while the single-handle design offers ease of use and precise temperature control. To make sure your new faucet looks flawless in your kitchen, I'll also be sharing some handy installation tips.
One notable feature of the Delta Cassidy Single-Handle Faucet is its Diamond Seal Technology. This innovative valve coating ensures that the faucet remains leak-free and durable for extended periods by minimizing wear on seals and other components.
In addition, this technology significantly reduces any potential risk for metal contaminants in your water supply since fewer parts are exposed to water within the faucet assembly.
For optimum performance, proper installation is crucial when it comes to any kitchen fixture – especially with a design as intricate as the Delta Cassidy Single-Handle Faucet. Here are a few tips to keep in mind during installation:
First, take accurate measurements of your sink area and ensure ample clearance between the back wall or backsplash and the faucet handle; this will allow you to fully utilize its swivel capabilities without obstruction.
Second, carefully read through all provided instructions before beginning – even if you've installed faucets in the past! Each model may have unique requirements or additional steps that can save time later on.
When choosing a kitchen faucet that embodies vintage charm without compromising on modern conveniences, it's hard to go wrong with the Delta Cassidy Single-Handle Faucet. Its striking design coupled with state-of-the-art Diamond Seal Technology ensures not only an eye-catching focal point but also reliable performance for years to come.
And by following my suggested installation tips, you'll be well on your way toward enjoying both form and function from this exceptional fixture.
Rohl Perrin & Rowe Bridge Faucet
After exploring the Delta Cassidy Single-Handle Faucet, I've discovered another fantastic option for achieving that vintage look in your kitchen. Let me introduce you to the Rohl Perrin & Rowe Bridge Faucet.
This beautiful and elegant faucet is sure to elevate any kitchen space with its timeless design and exceptional functionality. Perrin & Rowe has a rich history of creating luxury brassware since 1978, and their partnership with Rohl brings together two companies known for delivering high-quality products.
The bridge faucet design itself was inspired by traditional Victorian-era faucets, which adds an air of sophistication to your kitchen while still providing modern-day performance. As a bonus, this faucet comes in various finishes such as polished chrome, polished nickel, satin nickel, and more so you can easily match it to your preferred style.
When it comes to installation tips for the Rohl Perrin & Rowe Bridge Faucet, there are a few key points worth noting. First off, ensure that you have adequate space for both the spout and handles on your countertop or sink deck – keep in mind that they will be installed separately from one another. You'll want to measure twice before drilling any holes!
Also, consider consulting a professional plumber if you aren't confident in tackling this project yourself; they will have valuable insight into any potential issues or complications that may arise during installation.
Overall, the Rohl Perrin & Rowe Bridge Faucet would make a stunning addition to any vintage-inspired kitchen space. Its luxurious design combined with high-quality materials ensures lasting durability and top-notch performance day after day.
By following proper installation guidelines (or seeking assistance from professionals), you can rest easy knowing that your new centrepiece is securely fastened and ready for use! So go ahead – bring home a piece of history with this gorgeous bridge faucet and watch as it transforms your kitchen into an elegant retreat reminiscent of days gone by.
American Standard Heritage Wall-Mount Faucet
Continuing our journey through exquisite vintage-inspired faucets, let's delve into the American Standard Heritage Wall-Mount Faucet, a true testament to classic design and enduring elegance. This faucet embodies heritage aesthetics while offering modern convenience and functionality.
With its timeless look, the Heritage Wall-Mount Faucet can transform any kitchen into a space reminiscent of an era gone by. In addition to its visual appeal, wall-mount benefits include easier cleaning of countertops and ample sink space.
The American Standard Heritage Wall-Mount Faucet is thoughtfully designed with porcelain lever handles that provide both durability and style. These handles are marked with 'Hot' and 'Cold' indicators in the graceful script for an authentic vintage feel. Additionally, the elegant swivel spout ensures optimal water flow control, allowing you to effortlessly manoeuvre it to where it's needed most in your kitchen sink. The brass construction not only adds to its antique charm but also ensures long-lasting performance.
In terms of installation, the wall-mount feature provides flexibility in placement options while enhancing your overall kitchen design. It creates a clean countertop look as there are no visible connections on the surface level, providing more usable counter space around your sink area. Furthermore, wall-mounted faucets offer easier maintenance since they're elevated off the countertop – this means less grime accumulation underneath and simpler upkeep when it comes time for cleaning.
As we explore various vintage-inspired brass kitchen faucets for achieving that perfect nostalgic ambience in our kitchens, it's clear that the American Standard Heritage Wall-Mount Faucet is a prime choice for those seeking quality craftsmanship combined with classic aesthetic appeal. From its charming porcelain lever handles to durable brass construction – this faucet truly embraces heritage aesthetics while offering contemporary functionality and wall-mount benefits that are hard to resist in today's modern kitchens.
KOHLER Artifacts Swing Spout Faucet
After admiring the classic elegance of the American Standard Heritage Wall-Mount Faucet, I couldn't help but explore other options that offer a similar vintage appeal.
That's when I stumbled upon the KOHLER Artifacts Swing Spout Faucet, which not only boasts an antique-inspired design but also provides exceptional spout functionality.
Intrigued by this combination of aesthetics and practicality, I decided to delve deeper into what makes this faucet stand out among its peers.
The KOHLER Artifacts Swing Spout Faucet features a high-arch swing spout and 360-degree rotation that allows for easy manoeuvrability and ample clearance for all your kitchen tasks.
This design ensures that you'll have no trouble filling pots or cleaning large dishes, all while enjoying the nostalgia-inducing appearance of this beautiful fixture.
The two lever handles on either side of the spout give users precise control over water flow and temperature, reminiscent of traditional plumbing found in historical homes.
What truly sets this faucet apart from others is its range of finish options that cater to various preferences while maintaining a consistent vintage theme.
From polished chrome to oil-rubbed bronze, there's sure to be a finish that complements your existing kitchen decor perfectly.
Additionally, the KOHLER Artifacts collection offers several handle styles such as prongs and cross handles so you can further customize your faucet to suit your taste.
As my search for top brass kitchen faucets with a vintage look continues, the KOHLER Artifacts Swing Spout Faucet certainly stands out as an excellent option due to its timeless design, versatile finishes and handle choices, and superior functionality.
If you're looking for a fixture that combines modern performance with old-world charm, then this might just be the perfect fit for your dream kitchen.
Pfister Ashfield Two-Handle Faucet
You'll be captivated by the Pfister Ashfield Two-Handle Faucet, as it offers a perfect blend of rustic charm and modern functionality for your kitchen space.
The Ashfield aesthetics are evident in its design, featuring an old-world charm that harkens back to simpler times. With its vintage-inspired water pump look, this faucet is guaranteed to make a statement in any kitchen. But don't let its appearance fool you – the Pfister Ashfield is packed with contemporary features that ensure optimal performance and ease of use, making it an ideal choice for those who want the best of both worlds.
One of the most appealing aspects of this faucet is its two-handle design. This feature offers several benefits over single-handle options. For starters, it allows you greater control over water temperature and flow rate by providing separate handles for hot and cold water. Additionally, two-handle faucets tend to have fewer issues with dripping or leaking than their single-handle counterparts because they distribute pressure more evenly across the faucet's components.
Furthermore, should one handle malfunction or need maintenance down the line, you can still use the other handle without completely losing access to water at your sink.
The Pfister Ashfield Two-Handle Faucet also boasts several impressive technical features that set it apart from others on the market. It comes equipped with ceramic disc valves which provide a tight seal against leaks and offer long-lasting durability compared to traditional rubber seals found on older faucets. The high arc spout ensures ample clearance for filling large pots or containers while also providing a powerful stream of water when needed for heavy-duty cleaning tasks.
In terms of installation, this kitchen faucet is designed for easy setup with minimal tools required thanks to its Pfast Connect system that simplifies plumbing connections under your sink area. Additionally, Pfister provides a detailed instruction manual along with online support resources if you need further assistance during installation or maintenance procedures after purchase – demonstrating their commitment to customer satisfaction.
Overall, the Pfister Ashfield Two-Handle Faucet is a top-notch option for anyone looking to incorporate a vintage look into their kitchen without sacrificing modern performance and convenience.
Grohe Bridgeford Two-Handle Faucet
After marvelling at the Pfister Ashfield Two-Handle Faucet, I couldn't help but explore other options that could give my vintage kitchen an equally stunning look.
That's when I came across the Grohe Bridgeford Two-Handle Faucet – a beautiful piece that perfectly combines traditional designs with modern functionality. As I researched further, I discovered quite a few incredible benefits of this faucet and even learned about its installation process.
The Grohe Bridgeford offers an array of benefits that make it stand out from other vintage-inspired faucets. First and foremost, it's designed with the finest materials to ensure durability and longevity. The solid brass construction guarantees a long-lasting performance, while the StarLight Chrome finish provides an easy-to-clean surface that resists tarnishing and corrosion.
Additionally, the SilkMove ceramic cartridge technology ensures smooth handling and precise water control for optimal user experience.
When it comes to the installation process of the Grohe Bridgeford Two-Handle Faucet, I was pleased to find out how straightforward it can be. The faucet comes with all necessary components for a hassle-free setup – including flexible connection hoses and clear instructions – making it suitable for both DIY enthusiasts like myself and professional plumbers alike.
Moreover, its compatibility with standard US plumbing connections further simplifies the installation process by eliminating any need for additional parts or adaptors.
As I delved deeper into my research on this exquisite faucet model, one thing became clear: if you're looking for a top-notch vintage-style kitchen fixture that seamlessly blends aesthetics with functionality, then you won't go wrong with the Grohe Bridgeford Two-Handle Faucet.
With its sturdy construction, elegant design elements inspired by classic European styles, ease of installation process and convenient features such as temperature-limit stop control preventing scalding accidents – this masterpiece is certainly worth considering in your quest to find the perfect brass kitchen faucet for your vintage-themed space!
Newport Brass Chesterfield Faucet
Imagine discovering yet another gem in the world of vintage-inspired faucets, and this time it's the Newport Brass Chesterfield Faucet, a true embodiment of timeless elegance that will have your heart singing with joy.
This beautiful piece is designed to bring a touch of classic sophistication to any kitchen while offering the modern functionality you need. With its elegant curves and nostalgic details, this faucet has all the makings of an heirloom-worthy centrepiece for your kitchen.
Before diving into some Chesterfield installation tips, let's take a moment to appreciate the rich Newport Brass history that led to the creation of such an exquisite fixture. Newport Brass was founded in 1989 with a vision to produce high-quality brass faucets and accessories made entirely in America.
The company quickly set itself apart from competitors by focusing on craftsmanship, durability, and innovation. Today, they continue their tradition of excellence by manufacturing each product at their state-of-the-art facility in California using only solid brass materials and adhering to strict quality control standards.
The result is an extensive line of beautifully designed products built to last for generations.
Now that we've explored the exceptional background of Newport Brass let's delve into some practical Chesterfield installation tips so you can effortlessly incorporate this stunning faucet into your home. For starters, it's essential to know that this model comes as either a single-hole or widespread faucet option – be sure to select the one suitable for your sink configuration before purchasing.
Secondly, make use of high-quality Teflon tape when connecting water supply lines – doing so will ensure leak-free connections over time. Lastly, don't hesitate to consult professional help if you're not comfortable tackling plumbing tasks on your own; after all, proper installation is key to maintaining optimal performance and longevity.
The Newport Brass Chesterfield Faucet truly stands out among its peers due not only to its graceful aesthetic but also because it reflects a commitment to quality craftsmanship passed down through generations since 1989.
This faucet has the potential to elevate any kitchen space, and with proper installation, it's sure to serve as an enduring testament to your taste for years to come. In a world where trends come and go, choosing a timeless piece like the Chesterfield Faucet is an investment in lasting style and unparalleled performance that will keep you smiling every time you turn on the tap.
Maintenance and Care for Brass Fixtures
Now that you've installed your beautiful Chesterfield faucet, let's talk about keeping it in tip-top shape with proper maintenance and care for brass fixtures. These steps will not only ensure the brass's longevity but also keep it looking its best for years to come.
Brass is a durable and long-lasting material if cared for correctly, so tarnish prevention should be a priority in your routine.
Firstly, regular cleaning is essential to prevent the build-up of dirt and grime on the surface of the brass fixture. Use a soft cloth or sponge dampened with warm water and mild soap to gently wipe down the surface. Avoid using abrasive cleaners, as they can scratch or damage the finish, causing premature wear or discolouration.
Additionally, never use ammonia-based products on brass; this can cause irreversible damage to the metal's finish.
Another crucial aspect of proper maintenance is addressing any moisture issues around your fixture promptly. Water spots can lead to corrosion over time if not cleaned quickly and thoroughly. To avoid water spots from forming in the first place, try wiping down your fixtures after each use with a dry cloth or towel to remove excess moisture immediately.
If you notice any hard-to-remove spots, mix equal parts white vinegar and water as a non-abrasive cleaning solution that will dissolve mineral deposits without damaging your brass.
With these tips in mind, caring for your vintage-looking Newport Brass Chesterfield faucet becomes an easy task that ensures its beauty remains intact throughout its life span. Remember always to prioritize gentle cleaning techniques and address moisture concerns promptly while avoiding harsh chemicals that could harm your faucets' delicate finishes.
Regular upkeep will guarantee prolonged durability while maintaining an elegant appearance – making it well worth every effort invested into preserving such an exquisite piece of craftsmanship within your home's décor scheme!
Conclusion
In conclusion, I can say that brass fixtures add a touch of elegance and vintage charm to any kitchen. Their timeless design elements make these faucets not only functional but also aesthetically pleasing.
After analyzing the top brass kitchen faucets mentioned above, I'm confident you'll find the perfect fit for your vintage-inspired space.
Just remember to take proper care and maintenance steps to keep them looking as stunning as the day they were installed!