As a homeowner who takes pride in maintaining a stylish and modern kitchen, I know firsthand the importance of choosing the right fixtures to complement the overall design. One of those crucial elements is the kitchen faucet – not only does it need to be functional, but it also has to seamlessly blend with your chosen aesthetic.
Over time, I've come across various materials and styles that caught my eye, but there's one that truly stands out for its durability, sophistication and versatility: stainless steel kitchen faucets.
In my journey towards creating an elegant yet practical culinary space, I have delved deep into all aspects of what makes a great faucet. From pull-down spray options for added convenience to touchless technology that caters to our increasingly hygiene-conscious world; from sleek single-handle designs perfect for minimalist settings to robust double-handle selections reminiscent of traditional kitchens – there's no shortage of choices available for you.
In this article, we will examine each top stainless steel kitchen faucet on the market today and evaluate its pros and cons so you can make an informed decision while staying true to your style. Additionally, we'll explore water-saving capabilities as well as installation and maintenance tips so your new fixture remains both beautiful and efficient throughout its lifetime.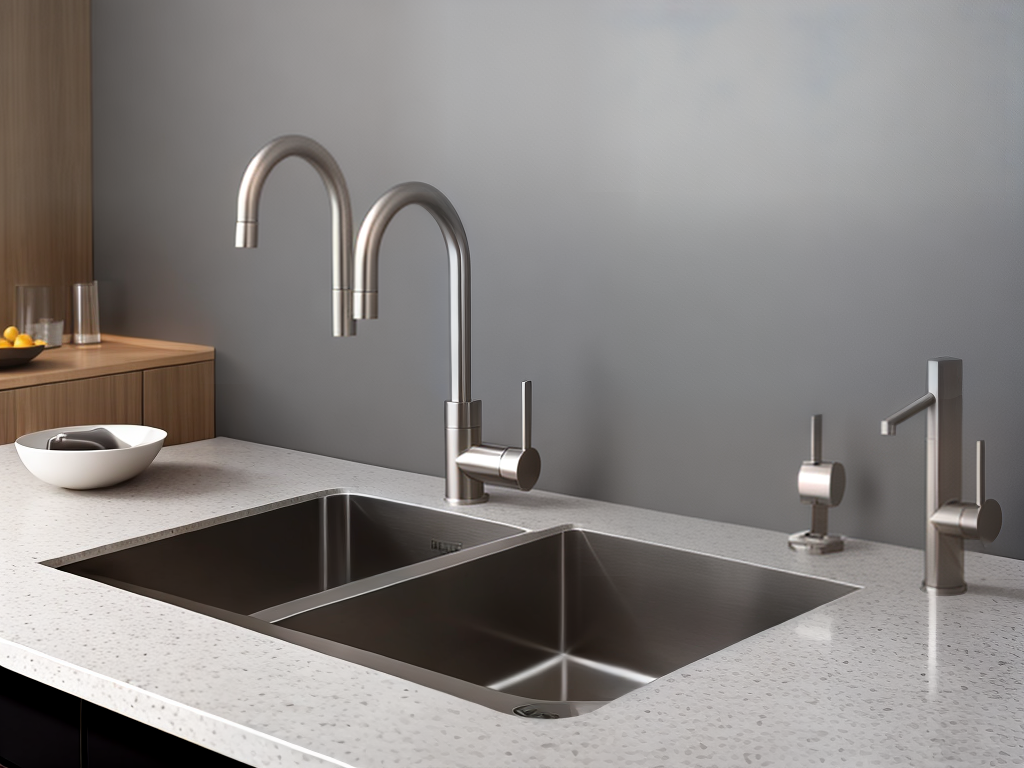 Pull-Down Spray Faucets
Imagine effortlessly pulling down a sleek spray faucet to rinse off your dishes, adding both style and convenience to your kitchen workspace. Pull-down spray faucets are an excellent choice for modern kitchens, providing not only a contemporary look but also advanced functionality.
With their long hoses and adjustable nozzles, these faucets make it easy to reach every corner of your sink, minimizing splashing and ensuring a thorough cleaning. Additionally, many pull-down faucets offer multiple spray patterns and nozzle adjustments that can help you tackle different tasks with ease.
One of the top stainless steel pull-down faucets on the market is the Delta Faucet Leland Single-Handle Kitchen Sink Faucet. This model features a high arc design that allows for plenty of clearance when filling pots or washing large items. The MagnaTite docking system ensures the wand stays securely in place when not in use while offering smooth operation when pulling it down.
Its ShieldSpray technology provides powerful jet streams for heavy-duty cleaning while simultaneously containing water within a protective sphere to minimize splatter.
Another outstanding option is the Moen Arbor Motionsense Touchless One-Handle High Arc Pulldown Kitchen Faucet. This faucet boasts hands-free operation through its MotionSense technology, which detects movement close to the faucet's sensor and automatically turns on and off accordingly – perfect for those moments when your hands are full or dirty!
The Power Clean spray technology offers 50% more spray power than most models available in the market without sacrificing water efficiency.
When choosing the best stainless steel pull-down spray faucet for your modern kitchen, consider factors such as ease of installation, hose length and flexibility, number of nozzle adjustments available, as well as any additional features like touchless activation or water-saving technologies that may enhance your experience further.
Whichever model you decide on should complement your kitchen's aesthetic while providing reliable performance for years to come.
Touchless Technology Options
You'll love the convenience and sleek style of touchless technology options for your kitchen faucet! Touchless convenience not only provides a modern aesthetic to your kitchen but also offers hygiene enhancement by reducing contact with potentially contaminated surfaces.
These faucets use infrared sensors to detect hand movements, allowing you to turn the water on and off without touching any handles or levers. This feature is particularly valuable in households with young children or individuals who are immunocompromised, as it helps prevent the spread of germs.
When exploring touchless technology options for stainless steel kitchen faucets, one outstanding model worth considering is the Kohler Sensate. This faucet boasts a responsive sensor that can accurately determine when you want water flow and when you don't. It also features an innovative docking system, which secures the spray head back into place after each use effortlessly. Moreover, it's a minimalist design and high-quality stainless steel materials make it an excellent option for those seeking both functionality and elegance.
Another impressive touchless stainless steel kitchen faucet is the Moen Align MotionSense Wave Faucet. With its unique wave sensor technology, this faucet allows you to control water flow by waving your hand over the top sensor or holding it near the base sensor for extended use. The Align MotionSense Wave Faucet also includes a pull-down nozzle with two spray modes – aerated stream and powerful rinse – providing versatility in your daily tasks while maintaining a sleek appearance.
As you consider various touchless technology options for your stainless steel kitchen faucet, remember that these models often require batteries or electricity to operate their sensors effectively. Ensure that you're prepared for these additional requirements before purchasing one of these advanced fixtures.
Regardless of which model you choose, there's no denying that incorporating touchless convenience into your home will elevate both its style and functionality while promoting enhanced hygiene practices throughout your space.
Single Handle Designs
Single-handle designs are a popular choice for those seeking both style and functionality in their kitchen faucets, offering ease of use and a streamlined appearance. Modern simplicity is at the heart of these faucets, with their sleek lines and minimalistic design complementing any contemporary kitchen decor.
The space-saving benefits of single-handle faucets are also significant, as they require less room on the countertop or sink deck compared to their two-handle counterparts. This can be especially advantageous in smaller kitchens where every inch counts.
When it comes to top stainless steel single-handle kitchen faucets, there are several standout options that not only look fantastic but perform exceptionally well.
One such faucet is the Delta Faucet Leland Single Handle Pull-Down Kitchen Faucet (9178-SS-DST). With its elegant curves and high-arc spout, this model brings a touch of sophistication to any modern kitchen while providing ample clearance for tall pots or filling containers. Its MagnaTite Docking system ensures that the pull-down spray wand stays securely in place when not in use, while its DIAMOND Seal Technology guarantees leak-free performance for years to come.
Another excellent option is the Moen Align One-Handle Pre-Rinse Spring Pulldown Kitchen Faucet (5923SRS). This industrial-inspired design features a flexible hose with a powerful spray head that allows you to tackle even the toughest cleaning tasks with ease. Its Spot Resist Stainless finish resists fingerprints and water spots, ensuring your faucet remains pristine even after heavy usage. Plus, Moen's Power Boost technology provides faster cleanups by increasing water pressure at just the push of a button.
The Kraus Bolden Single Handle 18-Inch Commercial Kitchen Faucet (KPF-1610SS) is yet another noteworthy contender when it comes to stainless steel single-handle designs. Its compact size makes it an ideal choice for home chefs who want professional-level functionality without sacrificing valuable kitchen space. The faucet's dual-function sprayer allows for easy switching between aerated stream and powerful spray, making it a versatile option for various tasks from rinsing vegetables to heavy-duty scrubbing. With its corrosion-resistant stainless steel finish and sturdy construction, you can expect lasting durability and performance from this top-notch faucet.
Double Handle Selections
If you're in the market for a double-handle faucet, there are some fabulous options to choose from that'll not only elevate your kitchen's style but also offer excellent functionality.
Double handle benefits include precise temperature control and ease of use, especially if your hands are full or dirty. Plus, it's perfect for those who want to maintain a traditional look in their kitchens.
The ability to customize the handles makes these faucets even more appealing and allows you to tailor them specifically to your design preferences.
One of my top recommendations is the Delta 21996LF-SS Windemere Kitchen Faucet, which combines classic design with modern features like a high-arc stainless steel spout and side sprayer. This faucet is easy to install and offers smooth rotation between hot and cold water thanks to its two-handle configuration.
Its brushed finish ensures fingerprint resistance while providing an attractive aesthetic that complements various kitchen designs.
Another fantastic option is the American Standard 4275551F15.075 Colony Soft High-Arc Kitchen Faucet with separate side spray.
This faucet is ADA-compliant, ensuring easy operation for people with disabilities or limited mobility. Its durable brass construction guarantees long-lasting performance while resisting corrosion, tarnishing, and scratching – a must-have feature when investing in any kitchen fixture!
Moreover, this double-handle model has ceramic disc valve technology that prevents leaks by maintaining consistent water flow without dripping.
Overall, choosing a double-handle stainless steel kitchen faucet can bring both style and functionality into your space while catering specifically to your design preferences through handle customization options.
Whether you opt for the classic Delta Windemere or the reliable American Standard Colony Soft model, these faucets will serve you well by offering precise temperature control alongside durability and stunning aesthetics—a combination that will make your modern kitchen truly stand out from the rest!
Commercial-Style Choices
Can't decide on a commercial-style faucet? No worries, we've got you covered with some fantastic options that'll take your kitchen's wow factor to a whole new level! These faucets combine commercial durability and aesthetic appeal, making them perfect for those who want the best of both worlds.
In this article, we'll delve into some of our top picks for stainless steel commercial-style kitchen faucets.
First up is the Kraus KPF-1610SS Bolden Single Handle Commercial Kitchen Faucet. This sleek and stylish option features a dual-function pull-down spray head that allows you to switch between aerated stream and powerful spray modes with ease. The faucet also has a 360-degree swivel spout, ensuring maximum flexibility when working in your sink area. Its heavy-duty construction promises long-lasting performance while its stainless steel finish is resistant to rust and corrosion, making it an excellent choice for any modern kitchen.
Next on our list is the Moen Align Pre-Rinse Spring Pulldown Kitchen Faucet (model 5923SRS). This high-arc faucet boasts a spot-resistant stainless finish that keeps fingerprints and water spots at bay, ensuring your faucet stays looking clean and polished. The pulldown wand comes with two spray modes – aerated stream for everyday cleaning tasks and powerful rinse mode for heavy-duty applications – giving you the versatility needed in any busy kitchen setting. Additionally, it's Duralock quick connect system ensures easy installation without requiring any tools.
If you're after something more industrial in appearance but still focused on providing top-notch functionality, consider the Blanco Culina Semi-Pro Kitchen Faucet (model 441332). With its iconic coil design reminiscent of professional kitchens, this model certainly makes an impressive statement from both style and performance perspectives. It features a magnetic hand spray holder that ensures secure docking every time while offering two spray settings – full or needle jet – catering to various cleaning needs efficiently.
When it comes to selecting the right commercial-style faucet for your kitchen, you can't go wrong with any of these stainless steel options. They all offer a perfect blend of aesthetic appeal and commercial durability that will elevate your kitchen's overall look and feel.
Moreover, their top-quality construction ensures they'll withstand the test of time while providing you with the functionality needed for daily use.
So go ahead, take your pick from these fantastic choices, and enjoy the benefits of having a beautiful yet practical faucet in your modern kitchen!
High-Arc Faucet Models
Having explored the world of commercial-style kitchen faucets, it's time to delve into another popular category: high-arc faucet models. A perfect combination of arc functionality and aesthetic appeal, these faucets are designed to elevate your kitchen's modern look while providing you with the convenience and ease of use you need.
High-arc faucets boast a taller spout design that allows for easy filling and cleaning of large pots and pans. This makes them not only visually appealing but also incredibly functional for those who love cooking or entertaining guests. Some high-arc models even come equipped with a pull-down or pull-out sprayers for added versatility in rinsing dishes or washing produce.
When selecting a stainless steel high-arc faucet, consider factors such as the height of your sink area, surrounding cabinetry, and personal preferences in terms of design features. There are several top-rated stainless steel high-arc kitchen faucets available on the market today, each offering its unique advantages.
For instance, the Delta Faucet Leland Single Handle Kitchen Sink Faucet boasts a sleek design combined with advanced technologies like MagnaTite Docking and Diamond Seal Technology to ensure durability and performance. Another option is the Moen Align One Handle Pre-Rinse Spring Pulldown Kitchen Faucet which features a minimalist design along with Power Clean spray technology for powerful water pressure while minimizing splatter.
When choosing a stainless steel high-arc faucet for your modern kitchen makeover, pay attention to details like handle design options (single or double), flow rate settings (standard or water-saving), temperature control features (manual or touchless), and overall build quality to ensure long-lasting performance. By carefully considering these aspects alongside your aesthetic preferences, you can find the perfect high-arc model that will not only enhance your kitchen's visual appeal but also provide practical functionality tailored to your specific needs.
Wall-Mounted Varieties
Imagine the elegance and sophistication of a wall-mounted faucet, transforming your kitchen into an inviting and stylish space where you'll love to cook and entertain.
Wall-mounted faucets offer several advantages over traditional deck-mounted options. They allow for easy cleaning around the sink area, reduce countertop clutter, and provide a more streamlined appearance. Additionally, these sleek fixtures free up valuable counter real estate for other kitchen essentials.
One top contender in the realm of stainless steel wall-mounted kitchen faucets is the Delta Faucet Trinsic Wall Mount Kitchen Faucet. This modern masterpiece boasts a minimalist design that complements any contemporary kitchen decor. It features a high-arc spout for ample clearance and reaches over large pots or pans. Plus, its solid brass construction ensures durability for years to come. The faucet also includes a convenient side sprayer for added functionality when rinsing dishes or filling pots.
Another highly recommended stainless steel wall-mounted kitchen faucet is the Kohler Karbon Articulating Two-Hole Deck-Mount Kitchen Sink Faucet with a 13-inch Spout with Silver Tube. This innovative fixture combines form and function with its unique articulating design that allows you to position the spout exactly where you need it – providing maximum flexibility while maintaining a modern appearance. Its sturdy stainless steel construction guarantees long-lasting performance, while its easy-to-use single lever handle ensures precise water temperature control.
When choosing a wall-mounted stainless steel kitchen faucet for your home, it's important to consider factors such as compatibility with your existing plumbing system, ease of installation (especially if you're not hiring a professional), desired style and finish (to complement your overall kitchen aesthetic), as well as any additional features like pull-down sprayers or integrated soap dispensers.
By taking these elements into account, along with considering reputable brands like Delta and Kohler, you'll be able to find the perfect stylish yet functional fixture that elevates both your cooking experience and overall kitchen appearance.
Bridge-Style Features
You'll love the timeless elegance of a bridge-style faucet, effortlessly blending traditional and contemporary design elements to create a stunning focal point in your kitchen. One of the main bridge styles' advantages is that they offer an elevated aesthetic, providing a sense of luxury and sophistication.
In addition, these faucets are functional and versatile, making them suitable for both traditional and modern kitchen settings. By understanding the differences between traditional vs modern faucet designs, you can make an informed decision when selecting the perfect stainless steel bridge-style faucet for your home.
When it comes to choosing a high-quality stainless steel bridge-style faucet, there are several key factors to consider. First, look for faucets made from solid stainless steel construction; these will be more durable and resistant to corrosion than those made with cheaper materials. Second, pay attention to details like ceramic disc cartridges which provide smooth operation and prevent leaks over time. Additionally, make sure the spout has a high arc design that allows ample room for filling pots or cleaning large dishes.
Some top-rated stainless steel bridge-style faucets include the Kingston Brass KS1278ALBS Heritage Kitchen Faucet with brass side sprayer – its elegant design features porcelain cross handles accentuated by subtle Victorian-inspired details that add charm without being overly ornate. Another excellent option is the Rohl U.4719L-EB-2 Perrin & Rowe Bridge Kitchen Faucet which boasts a sleek European-inspired profile combined with exceptional performance capabilities such as dual spray modes and swivel spout functionality.
Selecting a stainless steel bridge-style faucet not only adds visual interest but also enhances your overall kitchen experience by providing superior functionality paired with timeless beauty. Keep in mind essential factors such as solid construction materials, ceramic disc cartridges, and high arc spouts when choosing your ideal faucet model – this way you can ensure years of reliable performance combined with unparalleled style!
So go ahead: elevate your kitchen's look while enjoying all the practical benefits that come with a top-quality stainless steel bridge-style faucet.
Deck Plate Included Options
After taking a closer look at bridge-style faucets, it's time to explore another popular option for modern kitchens: deck plate-included faucets.
These models come with an additional component that covers any extra holes in your sink or countertop, providing a seamless and stylish finish. Deck plates offer both functional and aesthetic benefits, making them an excellent choice for those looking to upgrade their kitchen's appearance.
There are several deck plate benefits to consider when choosing a stainless steel kitchen faucet. First and foremost, they give your faucet installation a clean, polished look by covering up any unused holes in the sink area. This not only improves aesthetics but also prevents water from seeping into the counter surface through these gaps.
Plate material options can vary; however, most commonly used materials include stainless steel, brass or zinc alloy – all of which have their advantages in terms of durability and corrosion resistance.
When selecting a deck plate-included faucet for your kitchen, it's essential to analyze the pros and cons of each product carefully. Material compatibility is crucial here – make sure that the plate material matches well with your chosen faucet's finish for a uniform look across your entire sink area.
Moreover, pay attention to how easy it is to install the deck plate: some may require professional assistance while others can be easily mounted by following simple instructions provided by the manufacturer.
Deck plates are not only functional but also add an elegant touch to your modern stainless steel kitchen faucet setup. By considering factors such as material compatibility and ease of installation along with other features like style, spout reach or flow rate you will find the perfect fit for your needs without compromising on quality or aesthetics.
So don't hesitate – to explore these fantastic options today and elevate your kitchen design game!
Water-Saving Capabilities
Ready to make a splash with eco-friendly choices? Let's dive into water-saving capabilities and how they can enhance your faucet experience while protecting our planet.
As a conscious consumer, I'm always on the lookout for eco-friendly alternatives and sustainable materials. Stainless steel kitchen faucets are not only stylish but also offer impressive water-saving features that contribute to a greener environment.
One of the key water-saving features in stainless steel kitchen faucets is the flow rate. A lower flow rate means less water is used per minute without compromising performance. The ideal flow rate for an eco-friendly faucet is around 1.5 gallons per minute (GPM), which can reduce your water consumption by up to 30%.
Some top-notch brands like Delta and Moen even offer models with flow rates as low as 1.2 GPM, making them leaders in conservation efforts.
Another critical aspect of water-saving capabilities in stainless steel faucets is their aerators. Aerators are small devices attached at the end of the spout that mixes air with water, creating a more efficient stream while using less water overall.
This technology helps you save both water and energy by reducing your hot water usage – a win-win situation for both you and the environment! When shopping for an environmentally friendly faucet, look for models with WaterSense certification from the Environmental Protection Agency (EPA). These certified products meet strict criteria for efficiency and performance, ensuring you're choosing a high-quality product that conserves resources.
So why not make an educated choice when it comes to selecting your next stainless steel kitchen faucet? By prioritizing eco-friendly options with cutting-edge technologies like reduced flow rates and aerators, you'll be doing your part in conserving our precious resources while enjoying modern aesthetics and functionality at its finest.
Trust me; Mother Earth will thank you!
Finishes and Styles to Match Your Décor
When it comes to sprucing up your kitchen, choosing the right finish and style for your faucet can make all the difference in creating a cohesive and visually stunning space. With so many finishes and styles available in stainless steel kitchen faucets, it's important to consider how they will coordinate with your existing décor, matching countertops, and coordinating appliances.
The good news is that stainless steel is versatile; whether you're going for a sleek modern look or a more traditional design, there's likely a stainless steel faucet that will beautifully complement your kitchen.
As you browse through various options of stainless steel faucets, take note of the different finish options available. Some popular choices include polished stainless steel, which has a mirror-like shine; brushed stainless steel, which offers a softer matte appearance; and satin nickel or chrome finishes – both of which provide their unique aesthetic qualities.
Each finish has its own set of pros and cons when it comes to durability and maintenance requirements, so factor these considerations into your decision-making process.
In addition to the finish itself, pay attention to the design features of each faucet as well. For example, some may have curved spouts that create an elegant arch over your sink while others feature straight lines for a minimalist effect. Consider handle styles too: single-handle designs can offer convenience while two-handle models might give you more precise temperature control.
If you prefer touchless technology or pull-down spray heads for added functionality within your workspace area, be sure to explore those options as well.
With all these factors in mind—finish type, design features—you'll be on your way towards finding the perfect stainless-steel kitchen faucet that not only matches but enhances your overall décor theme.
Whether you opt for something bold like polished chrome or something subtler like brushed nickel or satin black finishes—a high-quality product can elevate any space's visual appeal while providing long-lasting performance at the same time.
Invest in one now and enjoy years of reliable use and a beautifully integrated kitchen design.
Installation and Maintenance Tips
So, you've picked out the perfect stainless steel faucet to match your décor – now it's time for installation and maintenance tips to ensure longevity and top performance.
To start with, easy installation is one of the key factors you should consider when choosing a kitchen faucet. While some faucets may require professional help, many stainless steel kitchen faucets today come with user-friendly instructions that make self-installation straightforward. Before starting the process, gather all necessary tools such as an adjustable wrench, plumber's tape, and a bucket or towel to catch any residual water.
When it comes to proper maintenance, there are simple steps you can take to prolong the life of your stainless steel faucet. One important aspect is cleaning: use a gentle cleaner or mild soap mixed with warm water and a soft cloth or sponge to clean the surface regularly. Avoid using harsh chemicals or abrasive materials that could damage the finish or scratch the surface. After cleaning, rinse thoroughly with water and dry immediately using a soft cloth.
In addition to regular cleaning, there are other preventive measures you can take for optimal performance of your stainless steel faucet. Make sure to periodically check for leaks in both visible connections (such as at the base) and hidden ones (like under the sink). If you find any issues, tighten connections or replace worn parts as needed – this will help avoid costly repairs down the line.
Another tip is ensuring proper water pressure by installing a pressure regulator if needed; too much pressure can cause damage over time.
By adhering to these easy installation and maintenance tips for your new stainless steel kitchen faucet, you'll be on track for years of reliable use while maintaining its sleek modern appearance.
Remember that investing in high-quality products from reputable brands also plays an essential role in guaranteeing durability and top-notch performance – so choose wisely! With minimal effort in caring for your fixture correctly from day one, it'll continue looking great while providing dependable service throughout its lifetime in your kitchen.
Conclusion
In conclusion, I've delved deep into the world of stainless steel kitchen faucets and discovered that there's a fantastic variety of materials, styles, and features available to suit any modern kitchen.
From pull-down spray options to touchless technology, it's evident that manufacturers are continually innovating to provide us with practical and aesthetically pleasing solutions.
After careful analysis and weighing the pros and cons of each product, it's clear that finding the perfect faucet for your needs is a matter of personal preference.
Just remember to consider factors like water-saving capabilities, finishes, installation ease, and maintenance requirements when making your decision.
Happy shopping!